Quality Stairlifts
Expert Installation
Trusted Aftercare
Recommended by Irish OT's
The Handicare 1100
5 Year Warranty
From Only €1599
Ireland's Best Value Stairlift
NEW STAIRLIFTS FROM €1599
FREE NO OBLIGATION SURVEY & QUOTE
CLEAN & TIDY ONE-DAY INSTALLATION
EXPERIENCED SURVEYORS & ENGINEERS
NATIONWIDE STAIRLIFT SERVICE
COUNTY COUNCIL APPROVED SUPPLIER
MOST SLIMLINE DESIGN ON THE MARKET
UP TO 5 YEAR STAIRLIFT WARRANTY
STRAIGHT STAIRLIFTS
Straight stairlift tracks can only travel in straight lines, they cannot turn a corner or go around a bend.
We offer a range of straight stairlifts to suit your individual requirements with prices from €1599 with a 5-year warranty.
CURVED STAIR LIFTS
Curved stair lifts have tracks that are specifically designed to suit staircases that turn corners or are spiral.
Tracks are made to order following a survey of each individual staircase.
HEALTHCARE PROFESSIONALS
At Beechfield Stair Lifts we offer a professional and efficient service.
If you're looking for advice on products which can enhance your client's mobility, we can advise and assist you.
Stair lift grants
You can apply for a stair lift grant at your local county council. 
€6,000 GRANT
You may be entitled to a grant of up to €6,000 which may cover 100% of the cost of the work.
What does it cover?
Costs such as the purchase and installation of grab-rails, a level access shower, access ramps, or a stair lift.
qualify
You may qualify for the 'Mobility Aids Grant Scheme' if you meet any of these conditions:
Over 65 with or without a disability.
Under 65 with a disability or serious illness.
Buying a stairlift from Beechfield Stairlifts has never been easier! We have partnered with Flexi-Fi, so you can now spread the cost of your stairlift.
STAIR LIFT BUYERS GUIDE
What is the best stair lift for me? How long does it take to install? How is a stair lift operated? How much does a stair lift cost? What if my stairlift breaks down? Is there a grant available?
Slim Stairlift in Drumcondra
We have recently installed a Handicare stairlift in Drumcondra. Our customer was undergoing cancer treatment which has greatly reduced her mobility.
CURVED STAIRLIFT IN GALWAY
The Rembrandt like all Beechfield Stairlifts, is custom designed and made to suit the exact dimensions of the stairs and the installation took less than a day.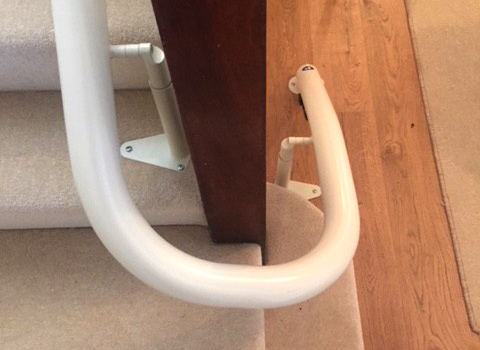 CURVED STAIRLIFT IN Cork
Robert discussed the various options and styles available and the client decided upon the Simplicity Plus with a powered swivel seat, as that best suited their requirements.
THE NEW HANDICARE 1100 STAIR LIFT – From €1599
Includes a market leading 5 year warranty!
Future Proof. The Handicare 1100 can be upgraded with extra functionality such as Powered Swivel after it has been installed.
The Slimmest Stairlift On The Market. Strong yet super slim line rail is the narrowest on the market so it obscures less of your stairs than any other straight stairlift system.
Smart, Clean and Tidy. Unlike other stairlifts, there is no grease or oil on the rail collecting dust and dirt as there is no tooth rack. Quick and tidy installation.
Always Charged. The Handicare 1100 features continuous charge functionality, so you can park the seat anywhere you like on the rail and it will stay charged.